Cosmetic Dentistry
Walnut Creek
Cosmetic Dentist in Walnut Creek and the San Francisco Bay Area
Are you self-conscious and embarrassed about your smile? If you are plagued by various cosmetic dental problems and feel like the condition of your teeth is causing you to hide your smile, our cosmetic dentists in Walnut Creek can help you turn that frown upside down.
You may be in perfect dental health, but still be unhappy with your smile.  Unfortunately, healthy teeth don't always equate to beautiful smiles.  If dull, stained, chipped, uneven, or crooked teeth are detracting from the beauty of your smile, our cosmetic dentistry treatments can help you.  Here are some of the procedures we offer:
Gingival Recontouring
Enamel Recontouring
Skilled cosmetic dentists with an artistic eye, our dentists will assess the shape of your face, the size and color of your teeth, and your complexion using computer digital imaging. Utilizing dental technology and various safe, effective cosmetic dentistry procedures, our dentists will design a new smile for you.
At Coliseum Dental Walnut Creek in the Walnut Creek Area of San Francisco, our premier cosmetic dentists will work with you to design your ideal smile and give your smile makeover dreams a reality.  You can view our dentist's amazing cosmetic dentistry work in our Smile Gallery.
Ceramic Crowns and Bridges
If decay or trauma has damaged your teeth, you may need dental crowns or bridges to repair the damage. Dental crowns provide additional support to damaged teeth and improve the appearance of your smile, while bridges fill the gaps left by missing teeth. When damage occurs in your anterior, or front, teeth, the appearance of the crowns and bridges will improve the aesthetics of your smile.
To preserve the beauty of your smile, Coliseum Dental Walnut Creek offers all-ceramic crowns and bridges for anterior teeth. The ceramic crowns and bridges used at our Walnut Creek office are virtually undetectable and leave no tell-tale black lines across your gums. These natural-looking cosmetic restorations also restore the function lost when the teeth were originally damaged.
Non-surgical Gingival Recontouring
If you have a "gummy" smile or if your teeth seem disproportionate with the rest of your mouth, you may benefit from non-surgical gingival (gum) recontouring. The gum recontouring procedure used at our San Francisco Bay Area office can create a beautiful, uniform smile. This simple, non-invasive cosmetic dentistry procedure can be performed quickly and safely with virtually no side effects.
Enamel Recontouring
If your teeth have rough edges, are slightly overlapping, or are somewhat uneven in length, enamel recontouring may be able to correct the issue without requiring any major restorative dentistry treatments or orthodontics. After a thorough dental evaluation, one of our dentists will determine if they can use enamel recontouring to smooth your teeth's rough edges, even their length, or lessen overcrowding.  Please contact us to schedule a dental examination to determine if enamel recontouring or another cosmetic dentistry treatment can improve your smile.
Teeth Whitening
Sometimes your smile might be a little duller than you would like. In that case, you could benefit from professional teeth whitening treatments. At Coliseum Dental Walnut Creek, we offer both in-office and take-home whitening treatments by BriteSmile®. Learn more about the BriteSmile® teeth whitening treatment options available at our San Francisco Bay Area practice.
Porcelain Veneers
Stained, discolored, chipped, and slightly misaligned teeth can force you to hide your smile. However, the placement of porcelain veneers can fix those cosmetic problems. Learn more about the porcelain veneers available at Coliseum Dental Walnut Creek. Learn more…
Invisalign®
Crooked teeth can create not only a cosmetic issue, but also problems with dental hygiene – since crowded teeth may be more difficult to properly clean. It's never too late to get a straighter smile. At Coliseum Dental Walnut Creek in Walnut Creek, our dentists can place traditional braces or use Invisalign® aligners to straighten your teeth.  We have many different orthodontic options for your teeth.
Contact Our Walnut Creek Cosmetic Dentistry Office
To learn more about the cosmetic treatments we offer or to schedule a cosmetic dentistry consultation, contact our Walnut Creek dental office today. Coliseum Dental Walnut Creek is proud to serve the cosmetic dentistry needs of patients from throughout the San Francisco Bay Area.
To learn more about cosmetic dentistry, read our other pages/blogs:
Related Cosmetic Dentistry Articles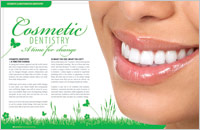 Cosmetic Dentistry – A Time For Change
Join us as we review the myriad of possibilities available to you for cosmetic dental change. But the biggest part is not just how your smile looks, it's how you feel when you show it… Read Article
---
The Impact of a Smile Makeover
Americans are catching on to the emotional and social importance of a healthy, beautiful smile, and they're seeking out ways to improve their smiles. Learn why and what a change could mean for you… Read Article
---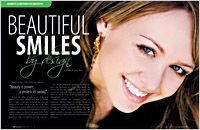 Beautiful Smiles by Design
The first in a series of articles dedicated to the "art and science" of designing a more appealing smile. One of the country's foremost leaders in cosmetic dentistry discusses how you and your dentist partner to create a great new look… Read Article
---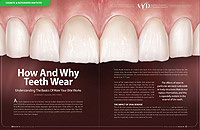 How And Why Teeth Wear
Are teeth supposed to last for a lifetime? And are humans designed to live for up to a hundred years? Given all the current improvements in the areas of medicine and health, both general and oral, people are not only living longer, but they are also keeping their teeth longer. This article will provide an overview of the "oral system" and one of its more common and important occurrences, tooth wear… Read Article